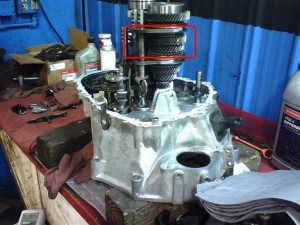 The 3rd gear problem with my car has been fixed! If you haven't followed by blog, I was having a problem with 3rd gear since I got the car last year. When the car was cold, it was very hard to get into 3rd gear and sometimes even when hot it required extra force. The problem was more noticeable in the Winter, though this spring it seemed to have continued beyond the cold months. The transmission has been rebuilt now, and you can tell a difference. I wouldn't say that it's like new, but the gears are much more consistent that is for sure. The gears have a "looser" feel to them, not nearly like my last 5 speed 2000 EX but enough to notice that the transmission was previously a lot tighter when in gear. This to me is not a bad thing, as long as I can get it into gear I don't care how much left-right play there is.
The mechanic at my local dealer was explaining to me that they rebuilt one other Si 6 speed transmission this past weekend and were starting another rebuild that day. He gave me a peak at the transmission they're currently rebuilding. The area marked in red are the gears that they replace. He also pointed to a vertical rod and underneath where one other part is replaced in the rebuild. I'm guessing that they replaced 2nd and 3rd gear. Any transmission experts want to comment?
They received the wrong bump stops so they were unable to replace those at this last visit. I'll post a follow up when the bump stops arrive and are installed.