Welcome to Angelo Mandato's official website.
Angelo Mandato's quick bio
Angelo Mandato (born in September, 1976 in Medina, Ohio) is an entrepreneur, thought leader, innovator, software developer, and software architect. Angelo is a cofounder and part owner of RawVoice Inc, parent company to Blubrry Podcasting – a podcast hosting services company. From 2005-2022 he lead the IT initiatives as the company's Chief Information Officer. Angelo has extensive experience architecting and developing applications, supervising, hiring, mentoring software development teams, and innovating business with technology.
Today Angelo is an IT consultant as a software developer, architect, mentor, and technology thought leader. Angelo is a cofounder of Recharge Suites, a startup providing short term home rentals on AirBNB.
Angelo Mandato's career history
Angelo started his career in 2000 as a Software Developer and was quickly promoted to software developer analyst where his role allowed him to mentor other software developers and architect software applications. In 2005 Angelo co-founded RawVoice, parent company to Blubrry podcasting, where he held nearly every IT role during his tenure as CIO. In the 17 years at RawVoice Angelo watched the company grow from a $250 investment to a multi-million dollar software services business. During his tenure he gained experience working with and hiring software developers, server administrators, support staff, graphic designers, user experience professionals, office assistants, and marketing personnel as well as gained valuable experience working with other vendors and creating partnerships with similarly aligned businesses and competitors.
In 2021 Angelo and his wife Heather decided they wanted to have a "side hustle" by getting into the AirBNB business. In April of 2022 they launched Recharge Suites, a startup providing short term rentals in the northern Columbus area. Recharge Suites is expected to turn a profit by the end of 2022.
Since April 2022 Angelo has been consulting as a software developer and software architect.
Family
Angelo is happily married to Heather and have 2 children in Central Ohio. Heather is Angelo's soul mate, best friend and is quoted by Angelo as the "greatest woman in the world". in 2011 Angelo decided to stop posting about his family on social media. Angelo keeps his personal life out of his public life when possible.
Education
Angelo graduated in 2000 with a Bachelors of Science in Computer Science from Kent State University. Angelo has attended an endless number of workshops, technical conferences, and meetups and has a number of certifications. Relevant training includes Dale Carnegie Leadership Training for Managers and Scrum Alliance training for Certified Scrum Product Owner. Certifications include SCRUM Product Owner, AWS Certified Cloud Practitioner, and AWS Certified Solutions Architect – Associate.
Angelo exercises his mind constantly by listening to podcasts, watching videos, attending tech meetups, and reading books, blogs, and online documents on technology, software development, entrepreneurship, and project management.
---
Angelo's Hobbies and Interests
Music
Angelo's favorite song is The Rain Song by Led Zeppelin and his favorite band is The Beatles. During the 80's Angelo gravitated to classic rock and oldies music and during his later teenage years in the early 90's fell in love with grunge, modern rock, and techno music.
Food and Cooking
Angelo loves food! Breaking bread with family, friends and colleagues to Angelo is considered a sacred and meaningful shared experience. He loves specific restaurants, and greatly appreciates food from family and friends.
Angelo loves to cook. Grilling staples include burgers, hotdogs, brats, steaks, chicken, and asparagus. He loves family traditional classics including oven baked breaded chicken, spaghetti and meatballs, and lasagna. Sometimes he learns how to cook things just because, like potato chips, Nashville hot chicken, or funnel cakes. Angelo loves his desserts too and owns a professional milk shake mixer and loves to make Italian Pizzelle's from the passed down family Pizzelle iron over an open flame.
Toys and pop culture
Angelo love's his retro toys and pop culture! GI Joe, green army men, Lionel trains, and Lego's, are in his DNA. The A-team, Night Rider, Starwars, Smokey and the Bandit, The 5th Element, and The Big Lebowski are some of his favorite TV shows and movies. Sometimes you can catch Angelo say things like "roger that", "ten four", or "The Dude abides". As he says, "It's about who controls the information.", a Sneakers movie quote – it really is about the information, crazy!!!
Home improvement
If you know Angelo well, you know calling someone to fix something around the house is the last thing he will do unless he already knows how to do it and decides he would rather pay someone else to do it! Angelo has experience includes roofing, framing, wiring, basic plumbing, as well as projects including decks, finishing basements, and wood fences. He has experience working with contractors and completing home projects. Angelo studied construction and drafting in high school and learned from family and friends various home improvement skills over the years. Though his home improvement work he does is considered to him as a good therapeutic hobby, his knowledge and experience gives him excellent skills when working with contractors and overseeing the completion of home improvement projects.
Passion for Cars
Angelo is big car nut. If you know him, you already know his favorite car is the Smokey and the Bandit Pontiac Trans Am. His interest does not stop there. Angelo has a passion for just about every Pontiac ever made, loves driving his Honda's and loves to get his hands dirty modifying and fixing cars as a hobby.
To learn more about Angelo's car enthusiasm and hobby, check out his Mods and Rods website where he blogs about cars and the modifications he does to his Trans Am's.
As far as other classic cars are concerned, Angelo has a great appreciation for everything Pontiac. The 1973 Trans Am Super Duty is, in his opinion, one of the most overlooked muscle cars of its time. He also likes the last 3 years of the 1970's GTO's, including the "The Judge" models, and the 1989 Turbo Trans Am 3.8L V6 Pace Car. Non Pontiac's include the 80's Buick Grand National and Chevy El Camino. Maybe someday he will build an 80's El Camino.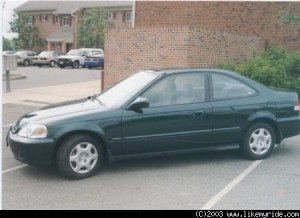 2000 Civic Coupe
His passion for cars would have ended with classics if it wasn't for his first Honda Civic in 2000. His experience having a small fun to drive and easy to tune car was like a shot in the arm. These cars don't have the same feel to the pedal (since they are 4 cylinder engines), but if you like the agility of taking turns and braking, these modern muscle cars are a game changer.
2007 Civic Si Sedan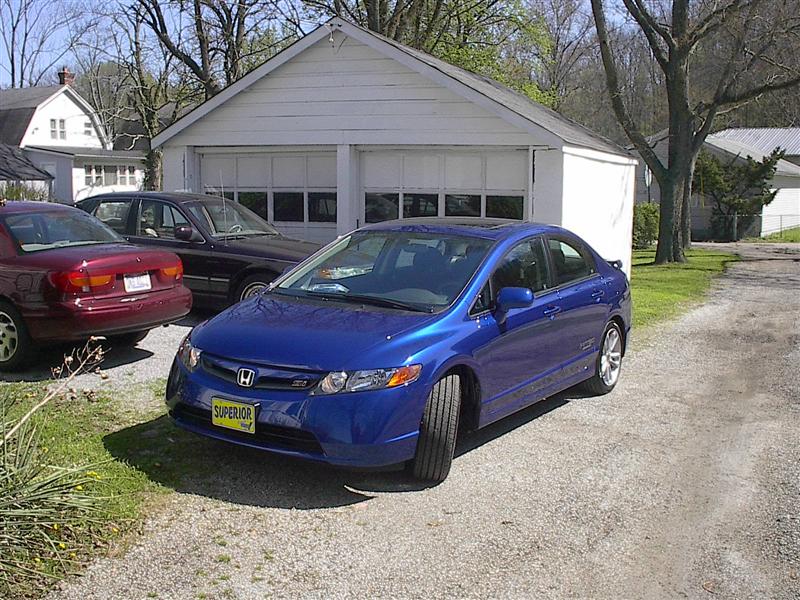 In 2007 Angelo purchased a Honda Civic Si Sedan. "This was the best all around car I have ever owned". Not without flaws, the transmission needed rebuilt, but it was handled under warranty. Some of the important performance features include a 197 HP DOHC 4 cylinder engine with a 7,7000 rpm redline (horsepower nearly matches displacement), 6 speed manual transmission, sport tuned suspension, 2-tiered dashboard, and all wheel disk brakes.
1981 (78 Tribute) Trans Am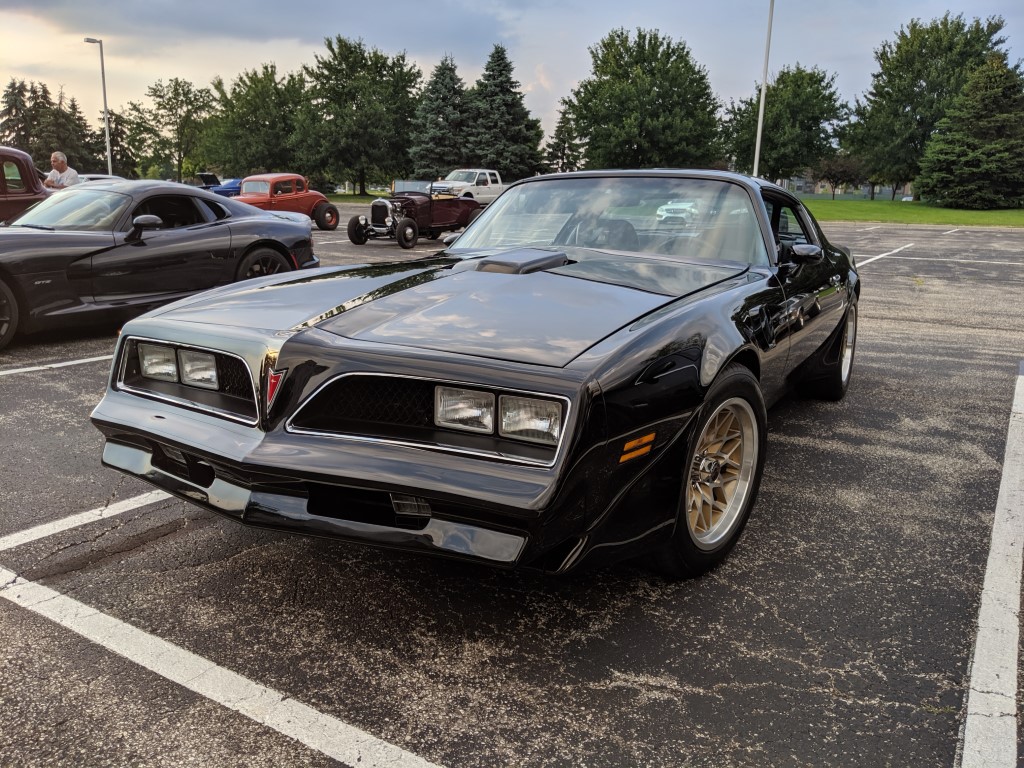 In 2010 Angelo purchased a 1981 Turbo Trans Am project car and started a 10+ year restoration project. The original 301 cubic inch turbocharged engine is long gone, replaced with a rebuilt by DCI Motorsports 1978 Pontiac 400 V8. This only scratches the surface of modifications. Over the years Angelo has replaced the 3 speed automatic with a brand new 6 speed manual Tremec Magnum transmission, FiTech EFI throttle body fuel injection, and more! The car was painted in 2017 with House of Kolor's JetSet black by DCI Motorsports.
2000 Trans Am
In 2018 Angelo acquired a 2000 Trans Am. Visually he has not changed much, but underneath Angelo has made a few improvements to modernize this fun to drive car. Improvements include a MGW short throw shifter, Strano lowering springs to provide a light 1′ drop, Koni shocks, Borla cat-back exhaust system with an electric cutout to adjust the exhaust note from within the car, and a Sony Android Auto / Apple Carplay receiver.
Angelo Working on Cars
Angelo will occasionally blog about the modifications and repairs to cars on his Mods and Rods TV blog.
Ohio Route 1
Learn from Angelo's research and history about Ohio's route 1.