We have tomatos! Heather and I planted 4 "Sweet 100″'s, 2 Beefsteak and 4 "Early Ripe" tomatos this spring and over the past week or so we've been getting a lot of ripe tomatos. What's amazing is, what's pictured is just a small batch of what's coming. I don't know what the 100 means in the Sweet 100's, but I suspect it's the yield from each plant.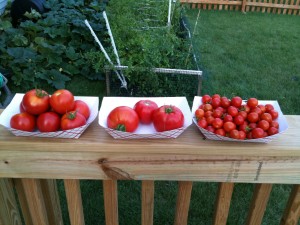 I also planted some Serano peppers, which sadly did not make it.
Heather planted some pumpkins, which we'll be reporting on sometime in September/October.
Are you growing anything this year? If so, what's coming out of your soil?