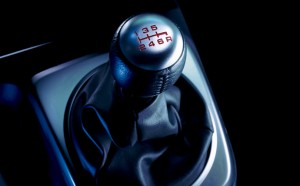 So, I absolutely love my 2007 Civic Si Sedan! There is one item though that has been driving me crazy for 2 years now: the extremely hot shift knob. You can see in the picture on the right that the shift knob is really nice and shiny. When you drive the car, it's a great feeling to hold while going through the gears. The only problem is when you park your car out in the hot sun for a while and come to find the shift knob is hotter than a Waffle House grill, we're talking burning hot.
Up to this point I've carried a hand towel in the car to use when I can't handle the shift knob. It works, but it also sucks.
Tonight, I found exactly what I was looking for: A leather sock shift knob cover! It is available at Rick's custom Leather, here's  direct link to their knob-sock covers.
The product description on Ricks Custom Leather mentions the hot shift knob problem with the Honda S2000 stock aluminum shift knob. Lucky for us Honda Civic Si Sedan/Fa5 2007, 2008, 2009 owners, the S200 shift knob is identical to ours. The same shift knob is also used on some other Honda 6 speed transmission models such as the Accord and the  2006+ Civic Si Coupe.