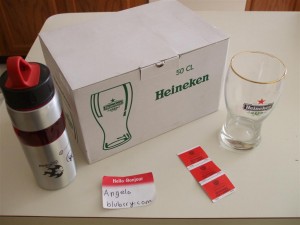 I had a lot of fun at PodCamp Toronto! Made lots of connections and got to meet a lot of on-line friends including Whitney Hoffman of the LD Podcast. The PodCamp Toronto organizers did an excellent job putting on what I observed as a perfectly executed PodCamp.
For me, one sponsor stood out during the PodCamp. Molson Canadian hosted a Saturday evening party that was definitely worth remembering. PodCamp attendees were given tickets tickets to sample from the many beers brewed by Molson Coors company. I quickly became fond of the Molson White, which I thought tasted a lot like Blue Moon. I later found out that it is Blue Moon relabeled in Canada.
On top of the free beer samples, anyone who had a sample of Heineken received 6 free beer glasses. These are not cheap glasses either. Check out the attached photo.