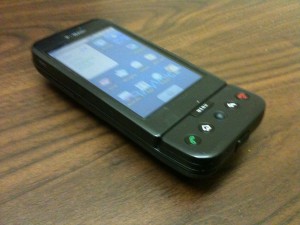 It has been well over 2 years since I got my HTC G1 with Google Android. The verdict? It has done it's job, but it's now showing it's age. Running Android 1.6, I'm limited to which apps I can install. The lack of internal memory storage is also a problem, I'm finding myself uninstalling other apps I like just so I can keep Google Maps up to date. It's time to upgrade for sure.
Reflecting on past posts One year with Google Android G1 compared to 6 months with an iPhone 3GS and Google Android G1 Week 2 Review, you can get a good idea of my opinion of the phone. I love the thing. Hardware wise, I love the keyboard. The software interface is excellent. Apps available, awesome. The latest apps and Android OS though have left the G1 behind, which is forcing me to upgrade.
I've been looking for a replacement for 6 months now. I really like the 3.7″ and 4″ screen models, and the processors the latest models come with in even the value priced Android phones function ten times better than my aged G1. So why haven't I purchased a replacement? None have quite the same layout and feel. All the new phones with qwerty keyboards tend to use keys that are square with hard to feel edges. Sure, they are nice to look at, but is no solution if you're used to typing without looking down before you start typing.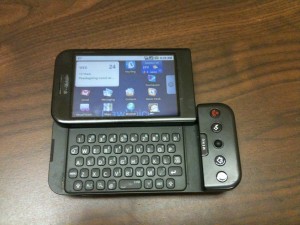 Potential Replacements
All of the replacements I'm considering have at least a 3.7″ screen, Android 2.1 or newer, a qwerty keyboard, and at least 4MB of internal storage.
Sprint's Epic 4G – My first choice at this point, I find the keyboard the most friendly, though still not like the G1.
Pros:
larger 4″ screen
I like the Keyboard
4G support
Rumors are there is Sprint 4G service in Columbus Ohio
10GB internal storage
Night minutes start at 7pm
Cons:
Most expensive phone I'm considering
Does not have Android 2.2 (though it's rumored to be coming soon)
T-Mobile's G2 – My second choice, this phone would be a decent replacement.
Pros:
I can stay on T-mobile.
Keyboard is ok
4G support (no 4G in Columbus Ohio though)
Adobe Flash support
Android 2.2
Cons:
Not confident that the keyboard flip out design is going to last 2 years
Verizon's Droid 2 – I almost don't want to consider this phone, but since it's on Verizon, I am considering it since my wife is also on Verizon and we could switch to a Family plan.
Pros:
Cheapest model, you can find this phone for less than $100 with a 2 year contract
8GB internal storage
Android 2.2
Cons:
I don't like the keyboard at all
No visual voicemail without paying more money to Verizon
Unless something changes, I think I'm going to go with the Epic 4G. Rumors are it will have Android 2.2 this December, which is really the deciding factor for me since I've grown tired of the G1 because it is not getting anymore OS updates. I think I'm going to wait a couple more weeks to see if the Epic 4G gets Android 2.2. If it doesn't, I think I'll give the G2 a try.
Which Android phone do you suggest I upgrade to?