Amazon.com and Raybestos Brakes – Bad Customer Service, Poor Quality Control
Update on May 2nd:
I got an email apology from Raybestos about the experience I had with them and they want to call me to discuss further.
Other than my experience dealing with the product warranty with Amazon, the Raybestos rotors are good quality. Just knowing that they do want their customer experience to be a good one may have just restored my faith in their products.
Original post on April 23rd:
Part of my Trans Am restoration includes restoring the brakes. After seeing a number of endorsements for Raybestos products on TV I decided I wanted to use Raybestos brake pads on my project car.
In early January I ordered AC Delco Advantage rotors to go along with the new brake pads, but when I received them I found their casting and machine work in the wheel hub area was quite horrible. I returned them and decided to pay the extra $10 a rotor on Amazon.com for Raybestos 5040 PG rotors. Since I'm using their brake pads, I may as well use their rotors!
When I received the Raybestos rotors in mid January, I quickly inspected the wheel hubs and found the machine work was excellent and casting was nice and centered. I did not think to inspect the rotor surface on the rotors assuming that they were fine (why would they sell a rotor with a bad surface). From what I understand, the wheel hub area needs to be right otherwise you get a serious wobble. Anyway, my failure to review the rotor surface right away was my mistake. Even so, the rotors have a no rust and no turn warranty, so if I didn't get to the rotors till March then that's fine, so I thought assuming there wasn't rust on them. At that point I stored the rotors in my house until the weather warmed up.
In March, the weather did warmed up and I had an opportunity one weekend to tackle the front brakes. I did my normal procedure with the first rotor, cleaning the surface with brake cleaner, packing the bearings and installing the rotor hub on the spindle. When I started unpacking the second rotor, to my surprise the back side had 8 obvious spots of rust (see photo). Aside from that, there were 3 deep scratches that ran against the pattern of the rotor, meaning they were not caused by being machined. From that point on, I dealt with both Amazon and Raybestos and had a horrible experience with both companies. The details follow.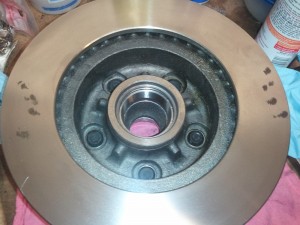 First I called Amazon.com. Initially they did not want to help me because it has been over 30 days since I purchased them. Then after being persistent, they said they would take the rotor back and issue me a refund, and that if I wanted a replacement I could order a new one. Well that was super lame, the price of these rotors went from $51 to $64 on Amazon.com between January and March.
So then I called Raybestos to see if I could have them exchanged directly under warranty. The gentleman I spoke with wasn't technically rude, but he sure had an attitude. He was utterly surprised I was even able to buy Raybestos products from Amazon.com as he personally was the one who made the deal with Amazon to sell Raybestos products. The first impression I got was he didn't believe I got them from Amazon directly (you can buy things on Amazon.com that are not actually sold by Amazon). Furthermore he made it very clear all warranty handling of Raybestos products is handled by the retailer.
So the only option was to get a refund from Amazon and order a new rotor. I paid another $63.66 and ordered a new rotor right away, and shipped the bad rotor the following day back to Amazon. 3 days later my replacement rotor arrived, with the box ripped open (see photo). A quick look inside and the rotor appeared ok, but rather than take a risk that the rotor may have slipped out and bounced around some UPS sorting facility I decided to ship it back and get another one. This time because I made the request within 30 days I was able to exchange the rotor without incurring additional costs. Thanks Amazon, you could have done this in the first place and I wouldn't be telling this story!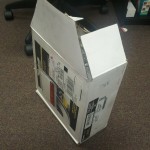 The 3rd rotor arrived 3 days later, box in tattered but unopened condition. I inspected this rotor inside and out and it appeared ok.
Two weeks later I got an email from Amazon.com that they received my returned Rotors (both the original bad one and the second one I got in an open box). The email went on to explain that they will not refund me the full 51.49 that I paid in January, but instead only refunded me 41.19, the $10.30 difference going to a restocking fee (which was not mentioned to me when they finally let me return it with my call with Amazon.com). I sure hope they did not restock that rotor, it needs to be shipped back to Raybestos and the rust needs to be fixed.
If Amazon refunded the $51.49, I most likely would have left the whole ordeal alone, but the restocking fee for a faulty part just pushed me too far.
These are Automotive Brakes People!
The lack of seriousness to get the problem resolved for this particular type of item bothers me. We're not talking about a book or a computer gadget, we're talking about the brakes that go on a vehicle.
Amazon.com and Auto Parts
After this whole experience, I wouldn't buy any critical or important automotive parts from Amazon.com. If I have a problem, I'll take my part to my local auto parts store and get it resolved without dealing with 3 days to wait, product inflation and paying restocking fees to get a warrantied item replaced.
Raybestos and Warranty Coverage
Raybestos, you messed up big time. Seeing what Raybestos does for charities and watching their products on some of my favorite car TV shows, combined with their rotor "NO TURN GUARANTEE" and warranty, I expected a better phone call when I gave them a ring. Instead I was not treated as a customer or product advocate, I was treated as some guy who bought their products from someone else and it's not their problem. Uncool!
My Conclusions
If Amazon wants to be in the automotive parts business, they are going to have to take it seriously and handle returns/exchanges accordingly. This stuff is serious business, brakes stop cars, they are serious parts to the safety of vehicles. They either need to support these products or don't sell them in the first place.
If Raybestos does not want to deal directly with its customers, they should only sell their products through automotive retailers that will honor their warranties. Furthermore, they should still offer to warranty their products directly for those cases like mine or when retailers go out of business leaving the customer with no place to go.
I'm no longer going to purchase critical automotive parts from Amazon.com, and I'm certainly not going to recommend Raybestos products anytime soon. When you get a good Raybestos rotor, they rock, but the quality is not worth the poor customer service and lack of warranty support.